We customize your helmet to your unique profile as follows.
Seal Type: you can easily make your original helmets.
Name Print: you can print your company name or logo.
Line Processing: you can add the line with tape around your helmet.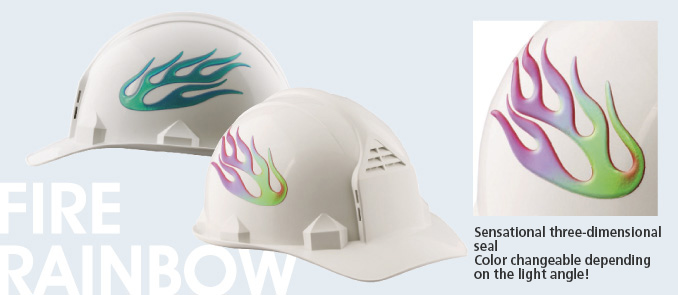 "Lumi Color" is a color changeable special-treated coloring seal.
The color changes depending on the light angle.
The luminescent design improves the image!

Helping you express your individuality Optional for Type BS, BA, BH
Applicable to white helmets only
*Sales on orders: It might take time to deliver.

Company's name, logo, individual name can be printed on the front, side, or back surface by silkscreen.?
Basically, one color printing only is available.? However, polychrome and gradation printing are possible.
*printable range differs from product to product.

The line distinguishes the position such as supervisor and improves the design as well.
Refer to the following for the line width.


*Please contact us for the designated color.